Gil Hodges and the Hall of Fame
My name is John T. Saccoman. I teach Mathematics and Computer Science at Seton Hall University, where I am an Associate Professor.
A few years ago, I started team teaching a 1-credit course in Sabermetrics (the search for objective truth about baseball, as defined by Bill James) with a colleague and dear friend, Fr. Gabe Costa.
<![if !vml]>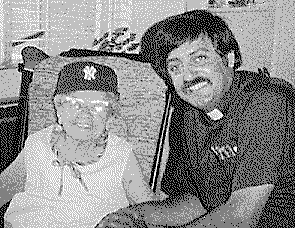 <![endif]>Here is Fr. Costa with Babe Ruth's sister.
<![if !vml]>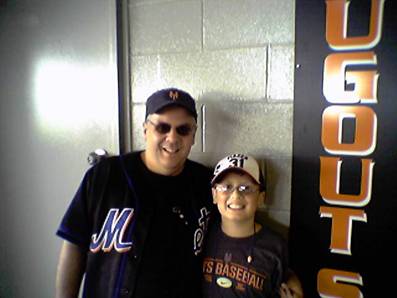 <![endif]>
Here is a picture of my son and I at a Mets game on Fathers Day.
I was invited to appear on a cable TV show about baseball in White Plains, NY, by the show's host John Vorperian.
Below is the interview we did, broken into three parts for ease of digitization. John's show is called "Beyond the Game".
The clips here are courtesy of BEYOND THE GAME, John Vorperian, Host and Producer.
Thank you to Danielle Mirliss of Seton Hall's I.T. Department, and Dr. Bert Wachsmuth
Please note that on Clip 1, I misspoke—I meant to say that Mr. Hodges has positives in 11 out of 15 points on the James list!
Background
Watching a Mets-Dodgers game on TV several years ago, two fans at Dodger Stadium were sitting next to each other wearing Dodgers jerseys number 14 and number 31. Announcer Tom Seaver remarked that it was a shame that the Dodgers never retired Hodges' number, although I was somewhat less surprised, as they seem to have turned their back on their rich Brooklyn heritage. Anyway, it got me thinking that Hodges has not only been ignored by his former team, but by the baseball community as a whole.
I did some research on the subject, and discovered that there were other like-minded folks out there. In the summer of 2002,  it became an obsession with me. On a Mets radio broadcast shortly after the new Veterans Committee procedures for Hall of Fame voting were announced, Mets radio announcer Gary Cohen congratulated the late Bob Murphy on his getting the right to vote.  He asked Murph for whom he was going to vote. He replied, without missing a beat, "Gil Hodges."
I realized then that I was on to something.
 I was 8 years old when he died, and  I never saw him play. My connection was that I am a Mets fan, and my mother grew up a die-hard Brooklyn fan. She told me after I started obsessing on Gil that he had been the favorite player of her late father, who died before I was born.
I have made poster presentations about Hodges' Hall of Fame candidacy at the Society for American Baseball Research (www.sabr.org) convention in Boston, 2002, and Denver, 2003.
An article on this subject, "Why isn't Gil Hodges in the Hall of Fame?", appeared in the Baseball Research  Journal in 2002. 
Gil Hodges has received more votes for the Hall of Fame than any other person not selected.  His Hall of Fame fate resides in the hands of the newly constituted Veterans Committee. 
A biographical article I wrote about Mr. Hodges can be accessed here.
Bill James wrote a book, The Politics of Glory, detailing the history of the HOF and presented some arguments about which players might or might not merit selection.  I use his 15-point list of arguments as a guideline for Gil Hodges' case. No one argument makes an entire case, but Hodges has positives in eleven of the fifteen arguments.
Click here for the ones that are positive for Hodges.
My email address: saccomjt@shu.edu
My friend, Joe D'Agostin, has coordinated the efforts for Mr. Hodges.
Grass roots effort
 by Joseph D'Agostin
Support the Gil Hodges 2005 Hall of Fame vote !!
Contact Joe D'Agostin (bklynbum14@hotmail.com) for his E-mail newsletter updates
Click here for a summary of the  presentation I made in Denver in 2003.
Click here for a summary of the presentation I made in Boston in 2002.