Seton Hall University
College of Arts and Sciences
~ Dr. E. Plummer ~

Course Coordinator for COST1600

Department of Communication
Oral Communication: Basic Concepts & Terms you should know updated 9/00 - E,J,P,
This Page is a list-in-progress. It is not intended to be a comprehensive glossary. The purpose here is to provide a list of terms/concepts that someone taking everyone in Oral Communication would be expected to know and understand by the completion of the course.
In order to look up definitions, refer to your notes/text for COST1600. Alternate and supplemental definitions can also be accessed via such websites as : ITP (Publisher of Communicate!)
A Model of the Basic (oral) Communcation Process: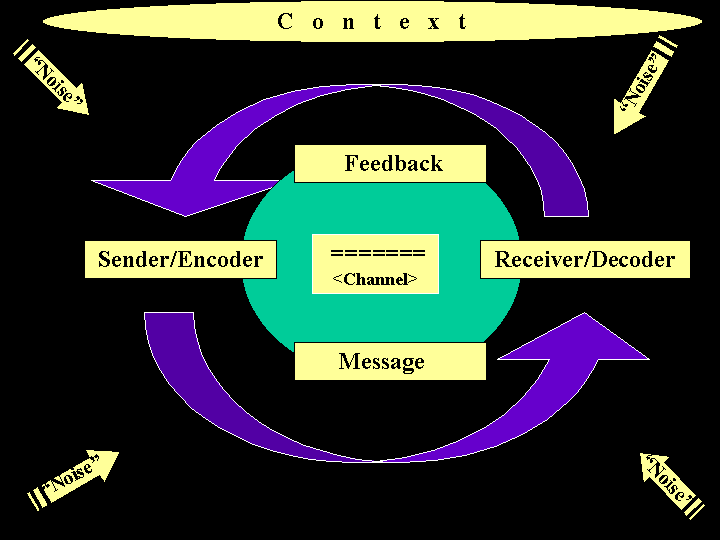 Some Basic (oral) Communication Terms:
Within the various field that study Human Communication studies, specific terminology can vary from school to school and discipline to discipline. Nevertheless, the concepts are very consistent and there are a few terms which derive from the original transmission theories developed in the early Twentieth century and can be found rather consistently in most all textbooks/material on Oral Communication.
related to the basic Communication Process:
MESSAGE                    
FEEDBACK 
ENCODER (Sender / Speaker / Source)
DECODER (Receiver / Listener ) 
CHANNEL  (Medium) 
CONTEXT (Environment)
"NOISE"
related to the various types of Communication settings: 
INTERPERSONAL
PUBLIC SPEAKING
GROUP DISCUSSION
MASS COMMUNICATION
related to the various Communication Skills/Techniques: 
LISTENING vs. HEARING
NONVERBAL COMMUNICATION (Proxemics / Kinesics / Chronemics / Paralanguage|Vocalics /  
related to Speech Organization: 
INTRODUCTION
BODY
CONCLUSION
TRANSITIONS
ORDER-OF-ORGANIZATION (Topical / Spatial / Cause-Effect[Causal] / Chronological)
© 2000