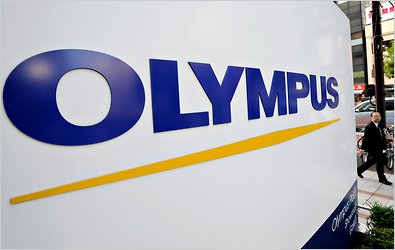 Franck Robichon/European Pressphoto Agency
Updated: Dec. 9, 2011
Olympus Corporation, founded in 1919, is a manufacturer of digital cameras and electronic equipment. Based in Tokyo, the multibillion-dollar company has operations worldwide.
In mid-October 2011, Olympus was rocked by scandal when its former chief executive and president, Michael C. Woodford, who is British, was suddenly fired. The company's chairman, Tsuyoshi Kikukawa, blamed a culture clash, but Mr. Woodford, a 30-year Olympus employee, said he was fired after trying to force an investigation into a series of acquisitions made before he was appointed chief.
One of the deals in question involved $687 million in fees Olympus paid to an obscure financial adviser over its acquisition of the British medical equipment maker Gyrus in 2008. That fee amounted to roughly a third of the $2 billion acquisition price, a fee amount more than 30 times the norm.
Olympus also acquired three small companies in Japan for a total of $773 million, only to write down most of their value within the same fiscal year. Those companies — Altis, a medical waste recycling company, Humalabo, a facial cream maker, and News Chef, which makes plastic containers — had little in common with Olympus's main line of business. Those businesses had not made money before being acquired, according to the credit ratings agency Tokyo Shoko Research.
At first, Olympus denied any wrongdoing over the deals, which were made from 2006 to 2008. But on Nov. 8, the company admitted it had used $1 billion in payments to cover up losses on investments.
On Dec. 6, an outside panel appointed by Olympus issued a harsh report, saying the company's former management was "rotten to the core." It also said the accounting fraud involved at least $1.7 billion.
The next day, at a news conference, the entire board of Olympus signaled plans to quit over the scandal, but would most likely pick a team of potential successors, setting off a battle for control of the company with Mr. Woodford, the former chief executive who blew the whistle on the cover-up. The board could go once the company submits its second-quarter earnings, due by Dec. 14, and takes steps to put the disgraced company back on track.