Research Interests
Technology and engineering must be based on pure science;
the time for empirical invention is long past
Kieth J. Laidler, "To Light Such A Candle" Oxford University Press, 1998
The primary research interests in the Kelty group focus on modeling and simulation of solid state surfaces and interfacial phenomena. This includes application areas such as catalysis, polymer properties and dynamics, biological materials including lipids, membrane proteins and nucleic acids.
Some current research areas include:
Molecular dynamics simulation of lipid membranes containing mixed dipalmitoylphosphatidylcholine (DPPC) and dimyristoylphosphatidylcholine (DMPC) which differ only in the length of the aliphatic tails by two methylene units. We have undertaken classical MD simulations of DMPC/DHCP mixtures two determine inter-miscibility, diffusion constants and structural properties of this mixed-lipid system. The picture at left shows this system following 50 ns of simulation time. Future aspects of this project will include addition of a membrane protein Bacteriorhodopsin, bR). The goal is to determine how the protein's function is influenced by the chemical composition of the lipid bilayer.
One of the most powerful complementary techniques to Scanning Tunneling Microscopy (STM) and Atomic Force Microscopy (AFM), particularly at atomic resolution, is the ability to model image data based on a hypothetical structure model. For example, we have been able to correctly interpret STM images of the graphitic layer edge which show a novel super-structure as resulting from a layer edge rearrangement of the electronic structure and not to crystal reconstruction. We have also investigated the local edge properties of Transition Metal Sulfides (TMS) (NbS2) using both experimental STM and complementary EHTB and Density Functional Theory (DFT) computational methods. The image at below left is experimental STM data of the edge region of NbS2 and on the right id a simulated image of the edge.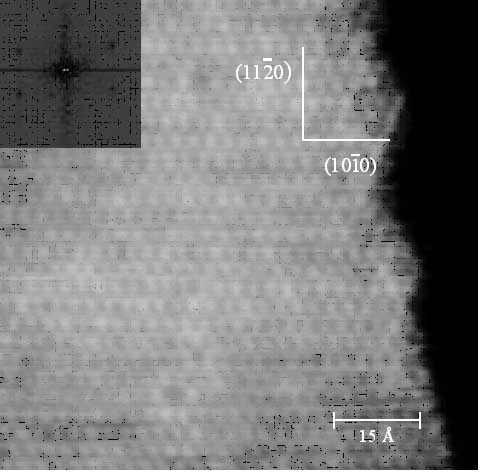 We are also investigating the equilibrium and dynamical properties of guanine-rich quadruplex structures. In normal duplex DNA, the two strands are bound together using complementary base pairing (A-T and C-G). Quadruplexes are composed of an unusual bonding arrangement in which four guanine residues are bound to each other in each "step" of the ladder in the sequence. We are currently investigating the oligomer (GGGTTA)4 in which three quadruplexes are separated by the TTA linkages. The goal of this project is to better understand the relative stability of alternative structure types.
Metal Oxides are also being investigated using classical MD to investigate the properties of thin films of mixed metal oxides as well as the surface properties of pure metal oxides.