A TASTE OF SYRIA

Philip M. Kayal

Virginia Jerro Gerbino
Syria is regarded as the crossroads of civilization and many chefs believe its culinary traditions offer the finest representation of Middle Eastern cooking and culture. From appetizers to desserts, the foods highlighted were tested and refined for hosts with discerning appetites, broad tastes, and a range of cooking skills.
Exemplifying the breadth of the cuisine, this selection of treasured family recipes was brought to America in the early 1900's by the authors' grandparents, immigrants from Aleppo, an ancient center of world commerce. They continue to be prepared the same way in Syria today.
Because of its Aleppian influences, Syrian cuisine is both sophisticated and particularly healthy with its emphasis on lean lamb and vegetables. While some dishes like Hummus, Shish Kabob, and Baklava are well known to Americans and ubiquitous across the Arab world, the foods of Syria are special in their particular mix of spices and textures.
This new compendium of Syrian cuisine includes a brief cultural and historical review, English and Arabic indices of 114 recipes, a glossary of terms, and a guide to the purchase and preparation of ingredients.
Born and raised in the large Syrian-Lebanese community in Brooklyn, New York, Virginia Jerro Gerbino is the family cook and keeper of its culinary traditions. She is employed as an Administrative Assistant for a law firm and resides in Cliffside Park, New Jersey. Her first cousin and co-author, Philip M. Kayal, is former Chair of Sociology at Seton Hall University in South Orange, New Jersey and the author of several books on the Arab-American experience. He lives in Orange, New Jersey.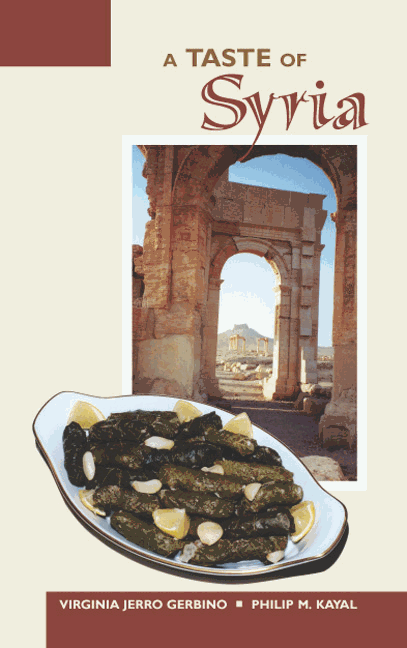 The Perfect Gift

Classic Family Recipes for the Home Cook

A TASTE OF SYRIA

by

Virginia Jerro Gerbino

Philip M. Kayal

Including: Family Traditions/Cuisine; A Brief History of Syria; the Syrian-Lebanese in America; Locating Foodstuffs; Lamb Preparation; Glossary of Terms; Basic Cooking Guidelines; Recipes for Breakfast, Mezze, Soups, Salads, Entrées, Vegetarian Dishes, and Desserts; Arabic & English Indices.

Available November 2002

U.S. $24.95 hardcover; 200 pages; ISBN: 0-7818-0946-0

ORDER FORM

MAIL TO: Hippocrene Books, 171 Madison Avenue, New York, NY 10016

TEL: 718-454-2366; FAX: 1-800-809-3855; EMAIL: orders@hippocrenebooks.com

I would like to order ______ copies of A TASTE OF SYRIA (394) at $24.95 each. Please add $5 shipping (UPS) for the first book and $.50 for each additional book. NY state residents add 8.25% sales tax.

My check/money order for ______________ is enclosed.

CREDIT CARD PAYMENTS:

Please charge my MASTERCARD VISA AMEX DISCOVERY (circle one)

CARD NUMBER ___ ___ ___ ___ ___ ___ ___ ___ ___ ___ ___ ___ ___ ___ ___ ___

SIGNATURE___________________________________ EXP. DATE: ______/______

Address for UPS delivery: Name__________________________________________________________

Street__________________________________________________________________________________

City______________________________________ State________ Zip Code__________

Phone (optional) _____________________________________ Date______/______/______
Also available at amazon.com, barnesandnoble.com, and hippocrenebooks.com
The Cuisine of Aleppo
To understand Syrian cuisine as it developed in Aleppo, our family's hometown, a little history is necessary. Aleppo is ancient, but its roots are buried beneath a very modern city. Legend has it that the prophet Abraham paused in Aleppo to milk his cows on Citadel Hill, thus spawning its Arabic name Halab, which means "milk." It is one of Syria's principle cities and the second largest after Damascus. Located in northwest Syria, it borders on Turkey and is at the crossroads of great and historic commercial routes, only sixty miles from the Mediterranean Sea and the Euphrates River. Aleppo lies along the Baghdad-Istanbul railway and is linked by rail with Damascus and Beirut, Lebanon. With road connections to Damascus, Latakia, and Antioch, Turkey it is a natural gateway to Asia.

The old city of Aleppo is centered around and dominated by a twelfth-century citadel where the ancient souks, or bazaars, are found. They run along narrow and winding streets and virtually everything from spices and silks to brass are sold in these precursors to modern shopping malls.

The city was originally laid out in walled districts entered via babs or doors. Different groups, such as Jews and Armenians, lived in these distinct quarters. Though no longer segregated residential entities, these areas are still known by their ethnic names. The overwhelming majority of Aleppians are Muslim, but Christians, Jews, Turks and Armenians have had a say in the life of the city for centuries. While some group rivalries exist, it is not unusual to find churches and mosques abutting one another in Syria's major cities.

Travelers in Syria quickly realize that the people are multilingual, diverse and very much aware of the diversity around them. In the crossroads that is Aleppo, this is particularly true. Like Damascus, it is filled with many foreigners, tourists, and refugees. The Ottoman occupation of Syria, Lebanon, Greece, and Armenia supplied a context for tolerance and sharing, giving Aleppians a commonality of food, albeit in slightly different forms and presentations. When we hear baklava, for example, we think of Greece, but it is also a Syrian pastry called batlawa. Over time, the string cheese brought to Syria by the Armenians became known as Halabi cheese or the cheese of Aleppo because that is where so many of these refugees settled.

For these reasons, the cuisine of Aleppo is considered by many to be not only unique, but the best of the Arab world (see "Aleppo's Allure," The New York Times Magazine, July 15, 1990). A mixture of Turkish, Greek, Armenian, and Arab influences, its variety and seasonings distinguish Aleppian food from all others. Aleppians serve particularly tasty versions of kabob, kibbeh, mezze, and stuffed vegetables. The city is famous for its hot peppers, pomegranates, and pistachio nuts. Aleppo is surrounded by flocks of fat-tailed Awassi sheep, olives and fruit orchards and its traditional dishes draw their character from its countryside. Its famous pistachios are used in many pastries, smothered in sugar syrup.

It is not only the rich assortment of appetizers, main courses and desserts that set Aleppo's cuisine apart from the rest of Syria, but attention to detail, subtlety of flavor, and elegance of presentation. Aleppo has a French ambience, while Damascus is more British. In addition, each city has its own specialties. Mamuneh'ya, a sweet breakfast delight, is served only in Aleppo, while a range of unique chickpea salads are commonplace in Damascus.

For appetizers, side dishes, or even a snack or luncheon meal, nothing surpasses hummus (puréed chickpeas) or baba ghanouj (puréed eggplant) with parsley or cumin as a garnish. M'hammara, a mix of red peppers, walnuts and pomegranate syrup, tastes great on pita. Like lebaneh, a yogurt spread drizzled with olive oil and dried mint, it is an appealing party dip. All these are common throughout the Middle East and vary in taste and texture from city to city and family to family.

Kibbeh trabulsieh, a popular entrée, named after the city of Tripoli, is an egg-shape lamb and wheat meatball, stuffed with sautéed ground lamb, spices, and pine nuts. Cooked in rendered butter, it is loved by all. Likewise, shish kabob or mishwie, as we call it, is all the rage. Though our parents would eat it only with grilled onions, we now add a variety of vegetables to the skewer. The present fashion is to serve it over rice. Mishwie can be found on grills throughout Syria, day and night. The aroma of lamb and the scent of the ubiquitous jasmine fill the night air, especially in Damascus and Aleppo where no one dines before 10:00 p.m.

Syrians often make rice with vermicelli, sautéed in butter and cooked with chicken broth. Many serve it with lightly browned pine nuts as a garnish but it can also be made with saffron, which colors it an appealing yellow and provides a characteristic taste. Sitto Alice added only saffron to her rice; Sitto Helen only vermicelli. Both variations are very Syrian.

All Syrian food should be eaten with Syrian bread (pita). Finding a good bakery is important. Most large cities with Arab communities have them and we strongly recommend freshly baked Syrian bread over that sold in supermarkets. Use the bread to wipe your dish clean. Or open it and scoop up leban, hummus, baba ghanouj or m'hammara. Use it for sandwiches. Toast it for use in salads or stuff it with Syrian cheese, toasting it until the cheese melts. Delicious!

Halaweh or halvah, as it is called in the United States is a well-known Middle Eastern delicacy sold in many supermarkets. A combination of sesame paste, sugar, and oil it is marketed as a candy - plain, with chocolate, or with pistachios. Virginia and her children like it in pita.

A typical Syrian breakfast consists of some combination of sliced cucumber, lebaneh dip, Syrian cheese, olives, pita, perhaps toasted, or some mamuneh'ya served with cheese and pita. Ca'ak, a cookie and/or arras, a bread, with apricot jelly, Syrian cheese, and melon is also served. Aromatically flavored za'atar bread can also be accompanied by olives and string cheese. The beverage of choice in the morning and throughout the day would be ah'weh turkieh, a thick espresso heavily flavored with sugar.

In the summer, yogurt mixed with garlic slivers, mint, cucumber, and chopped lettuce makes a tantalizing lunch. Fried eggplant and/or fried squash in pita is also a summer specialty as is ta'bouleh, a salad consisting of parsley, scallions, wheat, dried mint, tomatoes, lemon juice, and spices. For the winter, makhlootha and rhisthaya are appealingly hearty soups as is kibbeh lebanneya (kibbeh balls in warm yogurt with rice). A full dinner menu might consist of yebrat (meat-stuffed grape leaves), kibbeh trabulsieh, or jaj zatoon ou riz (chicken and olives with rice) served with ta'bouleh. Feasts fit for a king! There are also superb meatless meals (syamee) for the health conscious.

It is the pastries of Aleppo which distinguish it as a world-class culinary center, especially its gh'raybeh, batlawa, and ca'ak bil adgweh. When made correctly, gh'raybeh is light and buttery, delicate to the touch and palate, beautifully pear shaped and garnished with a sliver of pistachio or almond. Unlike the Greek version that uses honey, Syrian batlawa is made with sugar syrup, perhaps laced with rose water or orange blossom. Batlawa franjea, derived from the French occupation, is a delicious farina custard rich in butter and sprinkled with cinnamon. Desserts are served with Turkish coffee followed by arat, a strong Anisette liqueur. Almost all Syrian pastries can be eaten by hand. Sitto Helen is legendary for her desserts especially gh'raybeh and cara' beech.

In the middle of Aleppo, babs lead to the old Armenian or Christian quarter where the best pastries are found. Turks, Syrians, Greeks, and Armenians share a similar cuisine, but the Armenian influence on Aleppo's pastries is especially strong. Oddly, it is very difficult to find coffee and pastries served by the same vendors. Pastry and coffee shops usually stand side by side to serve the many Syrian families strolling for dessert each evening.

As mentioned, Syrian food in America is often referred to as Mediterranean. Many restaurants serve variations of all the appetizers we list. Everyone doctors these recipes to fit their own tastes. Unfortunately, many lose their originality and authenticity in the process - an inevitable outcome in the melting pot of America.

Many Syrian entrées have now become mezze (appetizers). With hosts and guests wishing to try everything, many main courses are now served as cocktail party finger foods. Kibbeh nayeh (lamb tartare) and yebrat are good examples. Sau'seejaw (sausage) served in lemon juice from a chafing dish with pita becomes a Syrian "pig in a blanket." There is also Giddo Richard's wonderfully cured adeed that can be rolled with olives and secured with a toothpick.

Zwaz (fried lamb brain), is a delicacy we loved as youngsters. Now hard to find, the lamb brains were mixed with olive oil, lemon juice, parsley and spices and served as a salad with pita on the side. It was also served in pita with lettuce as a topping. One can also add eggs and spices to the lamb brains and fry them as individual omelets, similar to ir'jeh. Lamb tongue, liver, and kidneys were also delicacies prepared by our parents. Though we enjoyed them as youngsters, these organ foods are no longer popular because of their fat content.