Benjamin Goldfrank is an
Associate Professor at the
Whitehead School of Diplomacy
Seton Hall University
400 South Orange Avenue
South Orange, NJ 07079
http://diplomacy.shu.edu/
Contact: goldfrbe@shu.edu
Books: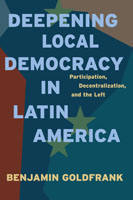 Deepening Local Democracy in Latin America:
Participation, Decentralization, and the Left
Pennsylvania State University Press, University Park, 2011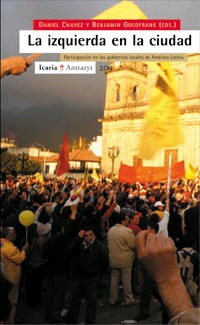 La izquierda en la ciudad: Participación en Gobiernos Locales de América Latina Daniel Chavez y Benjamin Goldfrank (eds.) Icaria editorial and Transnational Institute, Barcelona, 2004 http://www.icariaeditorial.com/libros.phpk=2&o=0&id=648&pg=19
The Left in the City: Participatory Local Governments in Latin America Daniel Chavez & Benjamin Goldfrank, eds. Latin American Bureau and Transnational Institute, London, 2004 http://www.latinamericabureau.org/?lid=2913
La sinistra e le città: Partecipazione nei governi locali dell'America Latina
Daniel Chavez, Benjamin Goldfrank e Giovanni Allegretti (eds.) Caminito editrice and Transnational Institute, Firenze, 2005 http://www.caminitoeditrice.com/scheda_libro.php?libri_ID=6
Book Chapters:
"Neoliberalism and the Left: National Challenges, Local Responses, and Global Alternatives," in Beyond Neoliberalism in Latin America? Societies and Politics at the Crossroads, edited by John Burdick, Phillip Oxhorn, and Kenneth Roberts. New York: Palgrave Macmillan, 2009. http://www.palgraveconnect.com
"Lessons from Latin American Experience in Participatory Budgeting," in Participatory Budgeting, edited by Anwar Shah. Washington, DC: World Bank Institute, Public Sector Governance and Accountability Series, 2007. PDF
Articles:
"Los Consejos Comunales: ¿Avance o retroceso para la democracia venezolana?" Íconos: Revista de Ciencias Sociales, FLACSO Ecuador, N. 40 (May 2011) Full Text
"Municipal Neoliberalism and Municipal Socialism:
Urban Political Economy in Latin America,"
co-authored with Andrew Schrank,
International Journal of Urban and Regional Research (June 2009)
http://www3.interscience.wiley.com/cgi-bin/fulltext/122302977/PDFSTART
"From the Petista Way of Governing to the Brazilian Way: How the PT Changed," co-authored with Brian Wampler, Revista Debates, Porto Alegre, Brazil, 2:2 (Jul-Dec 2008).
http://www.seer.ufrgs.br/index.php/debates/article/viewFile/2680/4563
"The Politics of Deepening Local Democracy:
Decentralization, Party Institutionalization, and Participation,"
Comparative Politics (January 2007)
"¿De la ciudad a la nación? La democracia participativa
y la izquierda latinoamericana," Nueva Sociedad (Nov-Dec 2007)
http://www.nuso.org/upload/articulos/3479_1.pdf
Deutsch version Versão português en Política Externa
"Los procesos de 'presupuesto participativo'
en América Latina: Éxito, fracaso y cambio,"
Revista de Ciencia Política, Chile (December 2006)
http://www.scielo.cl/pdf/revcipol/v26n2/art01.pdf
"Competitive Institution Building:
The PT and Participatory Budgeting in Rio Grande do Sul,"
co-authored with Aaron Schneider,
Latin American Politics and Society (Fall 2006)
http://muse.jhu.edu/journals/latin_american_politics_and_society/toc/lap48.3.html
Versão português Versión castellano
"The Fragile Flower of Local Democracy:
A Case Study of Decentralization/Participation
in Montevideo," Politics & Society (March 2002)
http://pas.sagepub.com/cgi/content/abstract/30/1/51
http://www.internationalbudget.org/themes/PB/Montevideo.pdf
Participatory budgeting links:

http://www.participatorybudgeting.org/

http://www.internationalbudget.org/themes/PB/index.htm
http://www.democraciaparticipativa.org/ (Portuguese)

http://www.ongcidade.org (Portuguese)
http://www.presupuestosparticipativos.net (Spanish)
http://www.cigu.org (Spanish)